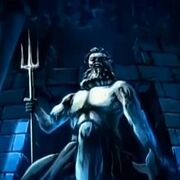 The Statue of Neptune was an artifact seen in Redakai: Conquer the Kairu. The statue's trident contained the Kairu energy that was later claimed by Team Stax.
Information
Anime
It appeared in Neptune's Reef.
Trivia
It was located in some ancient underwater ruins, possibly referencing Atlantis.
Gallery
Ad blocker interference detected!
Wikia is a free-to-use site that makes money from advertising. We have a modified experience for viewers using ad blockers

Wikia is not accessible if you've made further modifications. Remove the custom ad blocker rule(s) and the page will load as expected.