Welcome to Redapedia!
We are currently editing 479 articles, and we want you to help!
About this Wiki | Statistics | Policy | New Pages | New Files | Categories | Wiki Tutorial | Help Pages |}
The Redakai website that anyone can edit!
Chat with other fans of Redakai by clicking here
About Redapedia
Redapedia is a collaborative encyclopedia about the TCG and animated television series, Redakai. It is kept up-to-date by editors like you, to make sure Redapedia becomes the largest database on Redakai. Become a member and you can help us expand Redapedia so it may grow. Need an introduction to Redapedia, then go to the Community Portal. Be sure to read our Policies, as it provides the guidelines for the content posted. Also, use our tutorial for information on how to create, format, and edit pages.
Featured Article: November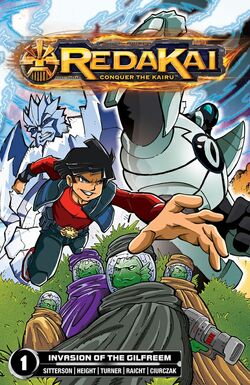 The first Redakai graphic novel was released October 2nd, 2013. Published by VIZ. read more
Latest Episode
The End Of The Shadow: Part II
Next Episode
None
Follow Us


Redapedia Blog Posts [add · more]
So, hi! I'm Ari Cocodoro, a native of Earth (duh) and part of team Stax. Unofficially, but yeah. I'm tagging along for a little while. I am younger than Boomer, Maya and Ky, having turned 13 only this year, but that doesn't stop me from helping them out! 

I use my natural abilities to help them coll…

Read more >

There's been a bug going on around the internet: it's called Heartbleed. This bug leaks your passwords to hackers and allows them to access your accounts in any website if it uses OpenSSL.

I went to the Heartbleed testing website, and the test I ran for this website showed that Redapedia is fine. Ho…

Read more >
Gallery
Featured Media: August
A scanned image of Redakai, featuring Monsters.
Community Poll: November
Which is your favorite Shadow Monster?
Member of Fandom: Toys and Games

Wikia: Toys and Games (TaG) is a family of open-content encyclopedias based on toy/game franchises, vowing to help each-other, wherever help is needed, and create a family of unified wikis.
Ad blocker interference detected!
Wikia is a free-to-use site that makes money from advertising. We have a modified experience for viewers using ad blockers

Wikia is not accessible if you've made further modifications. Remove the custom ad blocker rule(s) and the page will load as expected.