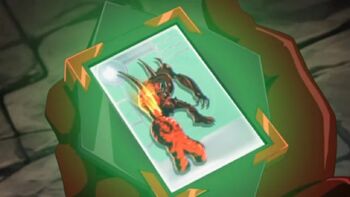 Information
Bruteron is a monster that appears in season 2 of the TV show. It is often used by Zane.
Anime
Bruteron is created when Zane takes shadow kairu after defeating Ky in Discovery Of The Kairu Cube, when he takes the kairu, the Bruticon he was currently in appears to become contaminated and mutates into Bruteron.
Zane uses Bruteron in Shadow Of The Radikor.
Trivia
The Bruticon that was mutated was a green machine, but Bruteron seems to have a closer resemblance to a Red Bruticon.
Gallery
Ad blocker interference detected!
Wikia is a free-to-use site that makes money from advertising. We have a modified experience for viewers using ad blockers

Wikia is not accessible if you've made further modifications. Remove the custom ad blocker rule(s) and the page will load as expected.